Agility Blessing
May the tunnels not have too much suction,
May the course be fun and fast.
May your dog not stop to say "hello"
to the photographers they pass!
May the table not be too slippery,
May the chute house no scary beasts,
May all the yellow parts be touched
with one little toe, at least.
May the wind be always at your back,
May no bars fall on the ground.
May the A-frame have no stop sign on the top,
May the judge's whistle never sound.
May your dog obey all correct commands
And ignore the ones that are wrong.
May your heart be light, your feet be sure
and the bond with your dog grow strong.
At the finish line, may great joy abound,
regardless of your score,
You have your dog, your dog has you,,
and who could ask for more?
Written by: PJ Hughes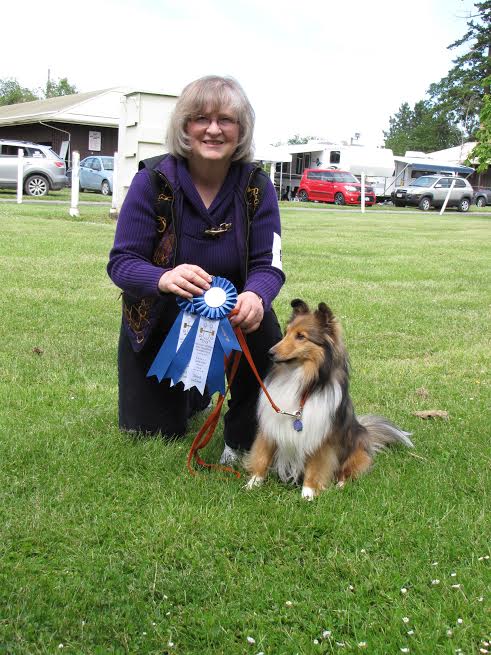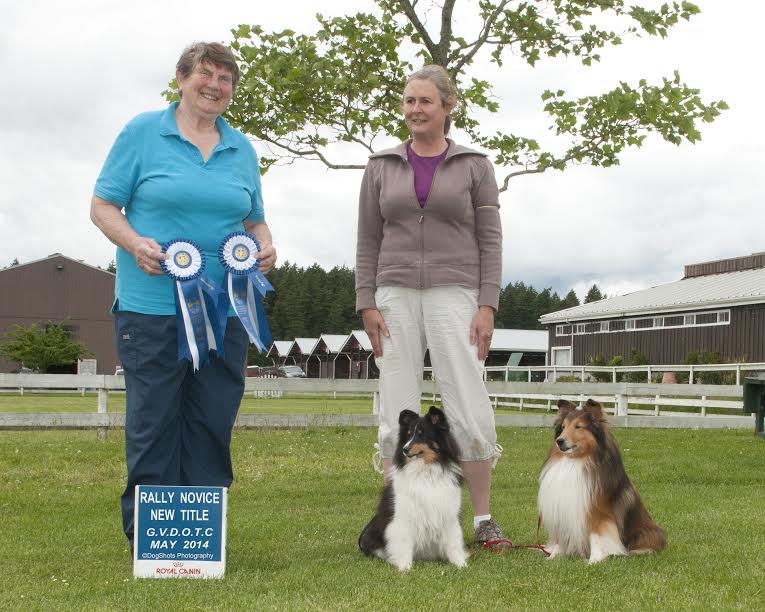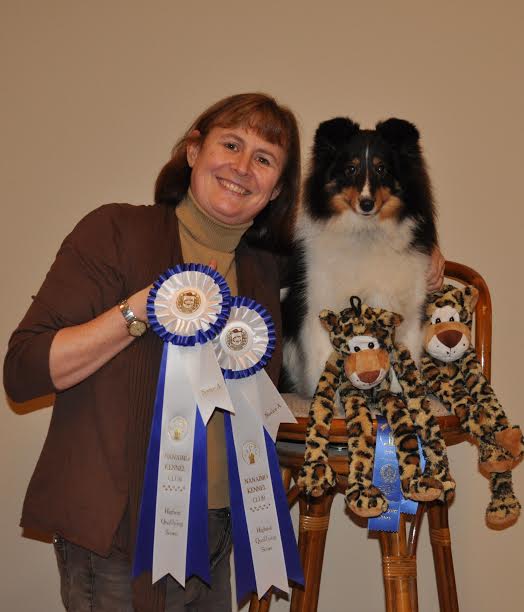 MBPIG Ch.(Alt) Ch. Cincerlee's A Touch of Grace HIC, RN,CGN "Gracie"
Aug 14, 2011, just before her first birthday, Gracie passed her Herding Instinct Test in Cobble Hill with sheep. She demonstrated interest, responsiveness, power, temperament in movement and balance of stock.
In January, 2013, we joined the North Saanich Dog Obediance Association to take a class in Rally Obedience. Rally-O is a fun spin off of obedience with the dog in heel position proceeding around the ring performing requirements at about 15 stations. Gracie passed her first three CKC trials as of April 13, 2013 to gain her Rally Obedience Novice Title (RN). In the March, 2014, she finished her AIOC Rally Novice title.
We took the summer and fall of 2013 to complete Gracie's Altered Conformation Championship. She won 8 Best Altered in Show, strutting around the ring like she owned it.
In Sept. 2013, we started a Rally-O Advanced class at NOSA. This is off leash work with more difficult stations and jumps. In the spring of 2014, Gracie passed a CKC trial and an AIOC trial at the Advanced level.
In Jan. 2014, we began a couple of more adventures. Started Obedience with NOSA and a private trainer for Agility!
We had a great time at a fun match in April completing a pre-novice Obedience trial. We will start competing in September towards a pre-companion dog title in Obedience with a goal to completing her CD title.
Gracie has been loving her Agility lessons! We have now working with Mala and Siri in our class and it's wonderful to watch these Shelties learning all the jumps and signals. And amusing to realize how difficult it is to get my footwork and body language right!
On April 13, 2014, a beautiful day in Duncan, Gracie aced her Canine Good Neighbour Test. She was so well behaved and amazed me as to how well she did the 12 tests!
We are looking forward to attaining a Versatility Certificate from the CSSA one day, It requires comformation points and points from 3 other dog sports. Little did I know how much I had to learn when I set that goal! Gracie just seems to come by it naturally, if I can get my part right!
And that's Gracie's story to date, She brings joy and laughter to my life every day.
Thank you Liana and Ashley!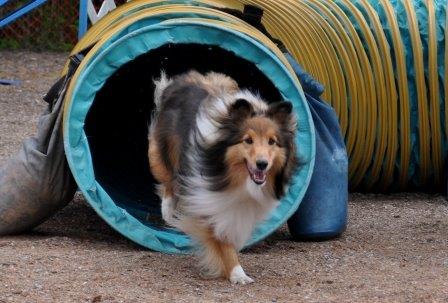 Ch. Cincerlee's Sortliege Mystique CGN, CD. HIC, RA, D "Mystique"
Mystique earned her CD title in 2 weekends of trials.
She was High in class in her first two trials at the Nanaimo Kennel Club.
Mystique also earned her RN at the Victoria trial as well as her Rally Advanced title.
Passed her CGN with flying colors!
Mystique earned her HIC this spring in Duncan and Jody hopes to return to Herding next year.
She started both herding and Agility classes in 2013 and is loving it!
Mystique passed her test for a Pet Therapy Dog and is busy volunteering weekly!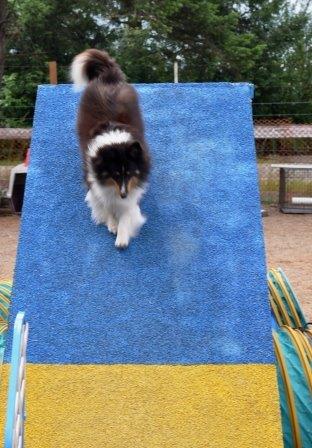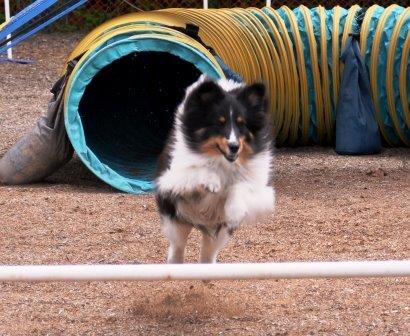 Cincerlee's Windswept Lady "Kaleigh" ADC, AADC, AGDC, MADC, MGDC, MSDC, MJDC, MTRDC, ATChC, MSCDC, Bronze ADC.,ExSt.Bronze, ExJ.Bronze, ExG.Bronze, ExS.Bronze, ExSc.Bronze, VBA.Ex.St.Silver, Silver Award of Merit.
Kaleigh loved Agility. She earned her C.D. obedience title and her Agility Dog of Canada title when she was 2 years old. She told me she preferred agility so that is what we pursued and we had a blast!
She earned her Masters Steeple Chase Dog of Canada in 2006 and earned her Agility Trial Champion of Canada in 2007.
She received her Expert Bronze titles in Jumpers, Gambler, Snooker, and Steeplechase. She earned her Expert Silver in Standard in 2009. She also earned her Versatility Bronze Award and her SILVER Award of Merit in 2009. I was SO proud of her!
Kaleigh qualified at the Regional Trials for BC and Yukon 5 times.In 2009 she was on the Podium achieving 2nd place in 10" Vets. That was a very special weekend for us.
Kaleigh went to AAC Nationals three times 2005, in Saskatoon, 2006 in Vancouver and 2010 saw us at Spruce Meadows for the 10 Anniversary of the AAC National Trials. Kaleigh had a great weekend and got a third place finish in Standard 2!
She was an awesome little agility dog with attitude . Her Wintertime fun was trucking around the cross country ski trails and snowshoe trails.
Fondly remembered for all the great times we had:)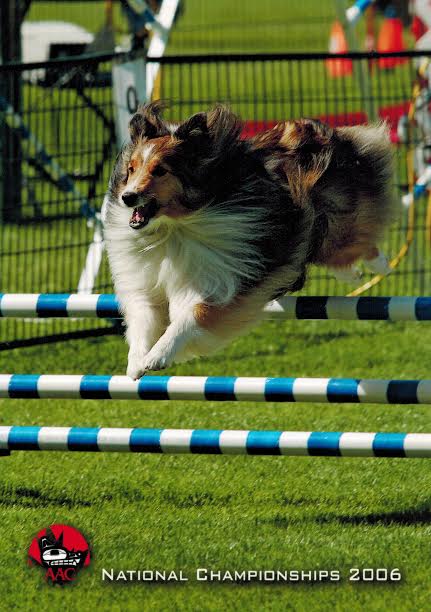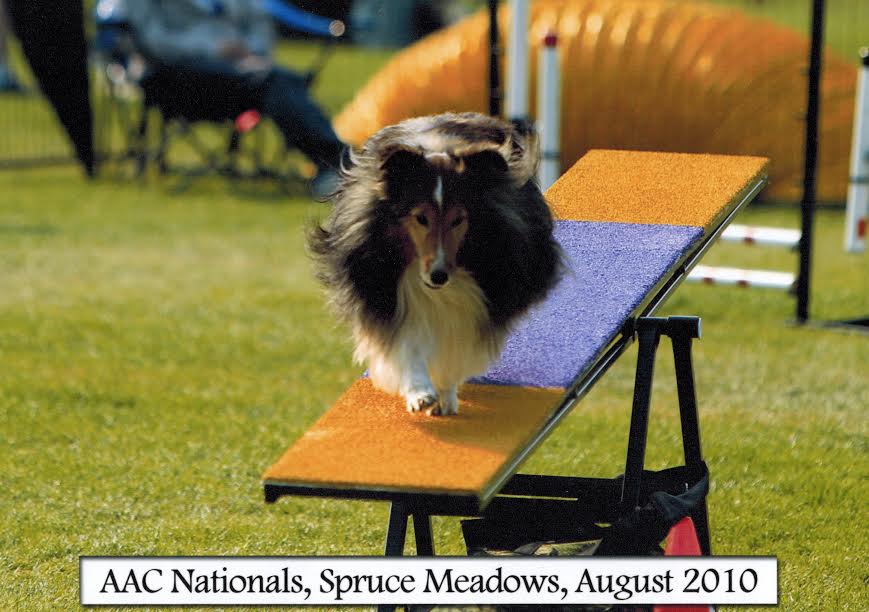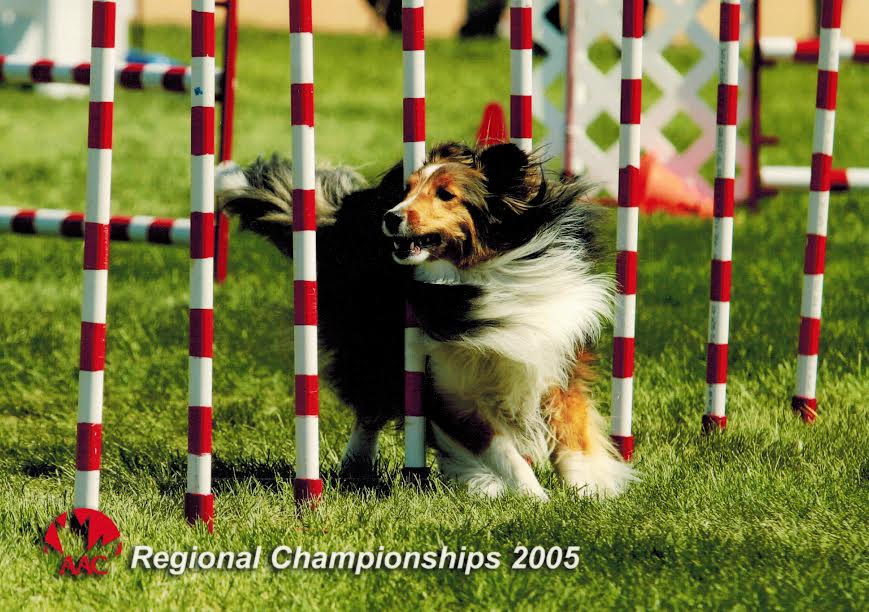 Grd Ch. Sharl's Delamantha Divine Mind RN, RA, CGN,D "Mala"
earned his RN at the Victoria trial in Apr./14
completed his Rally Advanced title in Nanaimo in June. He was High in Class for two of three trails
Aced his CGN, no problem!
Also passed his test as a Pet Therapy dog and is busy with his buddy, volunteering weekly
Started Agility and is loving it with hopes to trial in the near future!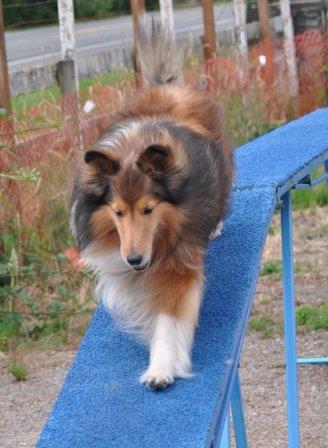 Cincerlee's Whiskey Blend "Siri"
Siri is a Pet Therapy dog and weekly volunteers with her pal, Walker
Siri is enjoying her Agility classes since January.
She's catching on really quickly and teaching her Mom Lynn, a few tricks!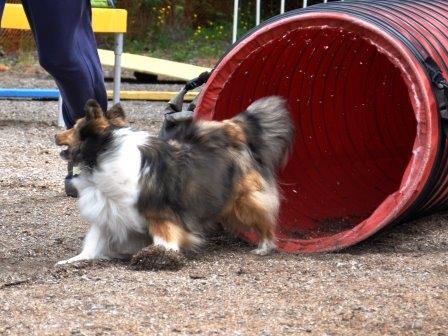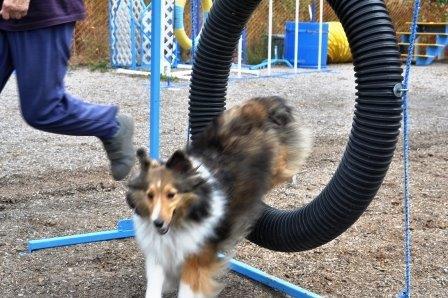 Cincerlee's Proud Lady CDX "Tara"
Cincerlee's Proud Lady CDX "Tara" Tara had her CD , at approx 1 year later she had obtained her CDX. Tara then went on to complete her Utility Dog title at the ages of 3/12. After retiring from competition Judy and Tara were with the Bytown Dog Obedience Club where Tara enjoyed her "Golden Years" showing off her skills at Seniors Homes and hospitals. Tara loved the Audience and could be seen sailing over the jumps while turning to acknowledge her admirers in mid air:)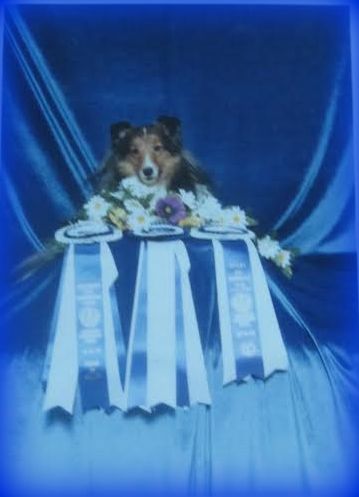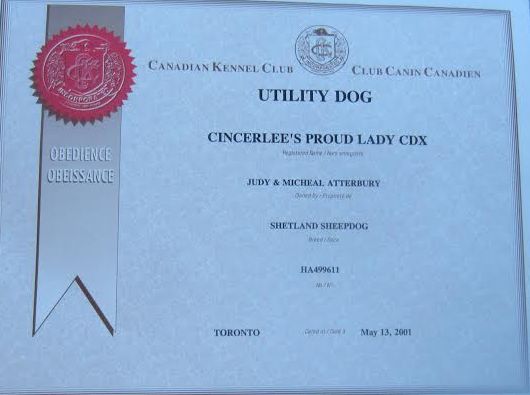 Can Ch. Cincerlee's Tequila Sunrise CGN, HIC "Isla"
Since obtaining her championship Isla has been busy. She is the proud dam to 2 Canadian champions with another soon to finish and also has performance titled offspring!!
Last year I decided to take Isla out for the CGN test and at 4 years old she did extremely well with little practice before the test! Then this April Isla and I went up island to have some fun with sheep, Isla showed she has instinct working the sheep and we came home with a new title for her name. I plan to start Isla in agility lessons next year for more fun times together!! Thanks to Alanna Brooks for the lovely photo of her girl)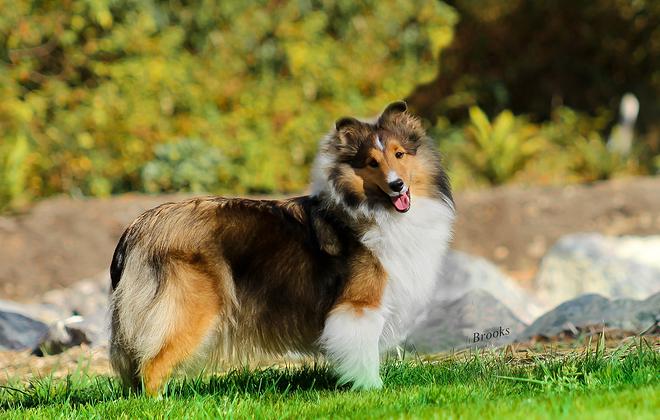 Bach Cincerlee Coastal Connection CGN "Bailey"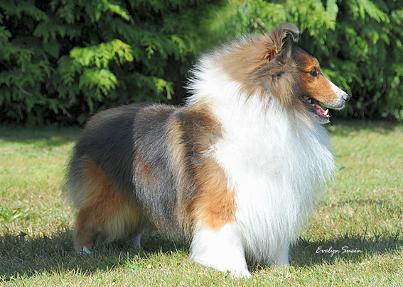 Bailey completed his CGN with minimal training, on a sunny Sunday afternoon in Black Creek in 2013 passing all 12 steps with ease. He continues to be the "Gentleman Sheltie" in the dog park each day, greeting all dogs and herding their owners. Bailey is so in tune with his surrounding that if he senses aggression in a dog, he just quietly turns around and walks away slowly. He is by nature a Canine Good Neighbour.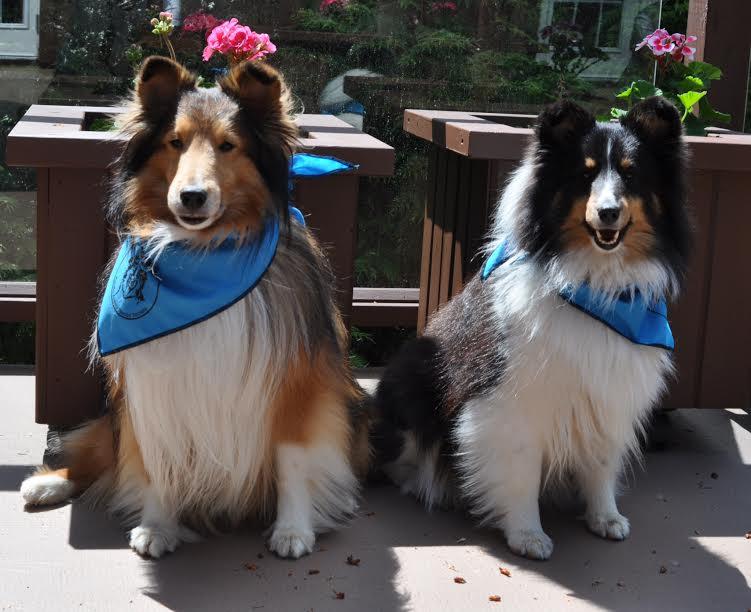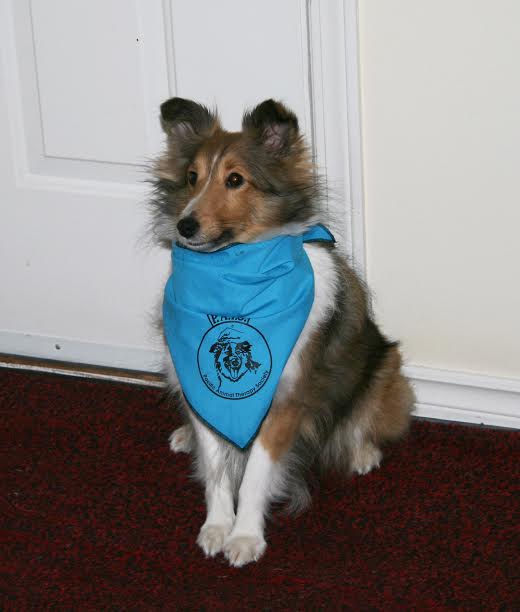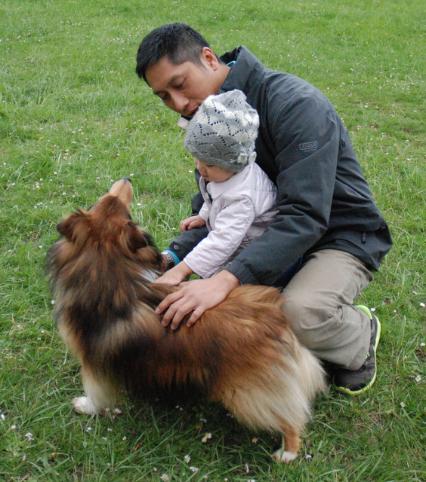 Cincerlee's Heart and Soul "Joey"
Cincerlee's Heart & Soul (Joey) began her love affair with Agility when she was just a young puppy in Obedience Training and I decided to put her into Building Blocks to shape her interacting with all types and shapes of objects. Joey LOVED it and was always driven to complete everything as rapidly as possible. In January of 2016, Joey and I (a new handler with a new dog) entered our first AAC Trial. In November of 2016 we entered our last trial for the year with Joey being approximately 2 1/2 years old. She absolutely LOVES it, never quits, is fearless, and runs like the wind. People say she is smiling at the Start Line and I do believe she is. In the AAC (Agility Association of Canada) she achieved her ADC (Agility Dog of Canada), SGDC (Starter Games Dog of Canada), MGDC (Masters Gamblers Dog of Canada), MSDC (Masters Snooker Dog of Canada), MSCDC (Masters Steeplechase Dog of Canada), & AADC (Advanced Agility Dog of Canada). In 2017, we will enter our first BC/Yukon Regional Agility Championship. When she's not training Agility, Joey LOVES playing with my grandson, wrestling with our cat, Mr. Max, swimming until I think she will sink, chasing and catching Frisbees, chasing balls, and hiking two or three times a week with her friends in the forests around the area looking for squirrels and ponds to swim in. This much loved dog then snuggles in beside me for a tummy rub, a good night's sleep and some sweet dreams.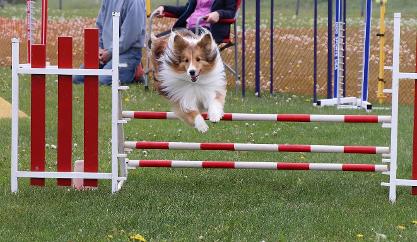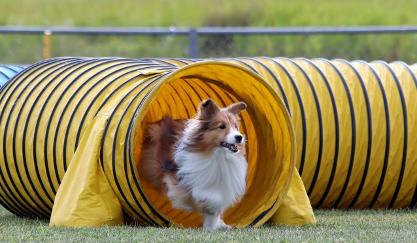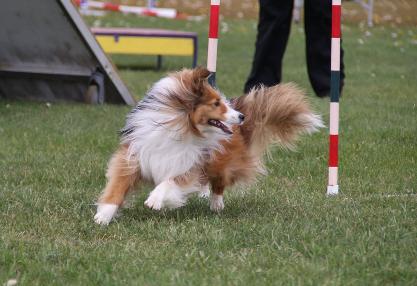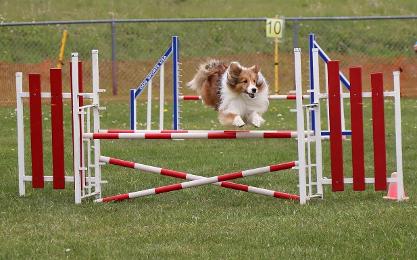 Joey Achieving Her Masters Agility Dog of Canada !