Please enjoy some photos of me in my "Salad Days" with some of the beautiful Shelties we have bred in the Past....
Ch. Cincerlees Diamond In The Ruff
Diamond
Finished with 3 - 5 point wins. (Remind you of Siren?) Diamond was a stand out puppy from the day she was born. She was a great mover and was very refined. She also had a lovely harsh coat. (No chalk or spray on her in this picture) She was a bit of a Diva and she loved people to admire her and pet her anywhere, any time! She was always happy to take the kids for a walk around the block.
Ch. CIncerlees SloTrafficKeepRite
Cruiser
Multi Group Placer. I see this dog when I look at Tequila. Wow, could he move! (Hence the name) He was a lot of dog at 16" but his boning and structure were great. This dog had an excellent front, superior head piece, and an awesome temperament! Cruiser was our Frisbee catcher extraodinaire and loved playing with children.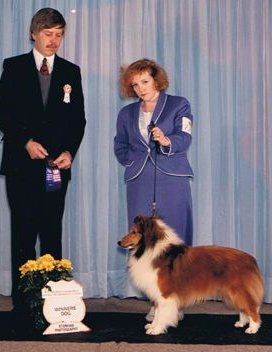 CH. Cincerlee's Diamond Mine
Crystal
No to be outdone by her brother, Cruiser, Crystal finished in grand style with two 5 point wins. She had an absolutely wonderful, expressive eye, and a beautiful sweet expression. Her lean backskull and nice finish of muzzle complimented her entire femine look. (I see all these qualities in Patrone) Crystal loved mid-woofing whether it was babies of the human kind or the Sheltie variety, I would always find her sharing a receiving blanket with someone in the house!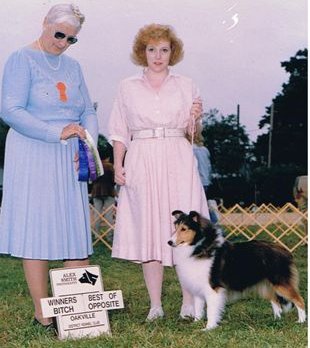 Cincerlee's Crystal Saphire
Saphire was an elegant and beautiful moving bitch who turned heads at every show. She started her show career at 4 years of age and had two 5 point wins over specials from the classes her first weekend out. She never got a chance to finish due to a serious injury the day after this shot was taken. She is a real replica of her great -grandfather Am/Can Ch. Quilcheena's Blue Legend of Hi-Hope. She was a fun-loving, outgoing pet who loved children and all the activities they included her in!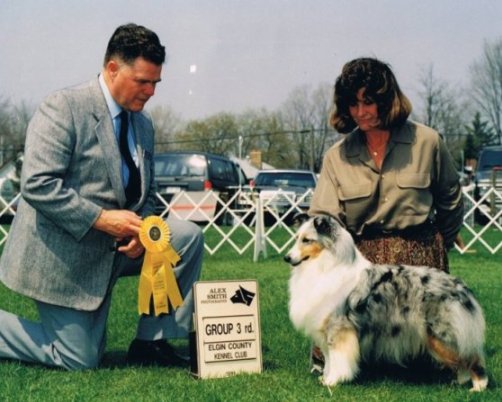 Here are some shots of My Family and I at dog shows
as you can see
they got the show bug at an early age!